Quick Demo | Full Webinar videos to see JuliaHub in action
Reference resources to get started on the JuliHub ecosystem: covers connection, how to configure cloud compute resources, billing, etc.
Tutorials highlight how to leverage JuliaHub toolings: from cloud-based notebooks and IDE to VSCode extension and custom applications.
Contribute new open-source packages and new versions
Explore the Julia ecosystem through categorized tags, documentation, and comprehensive searches
Why JuliaHub?
JuliaHub is the quickest on-ramp to leverage Julia - the fastest, easiest, and most powerful scientific, mathematical, and statistical computation language yet.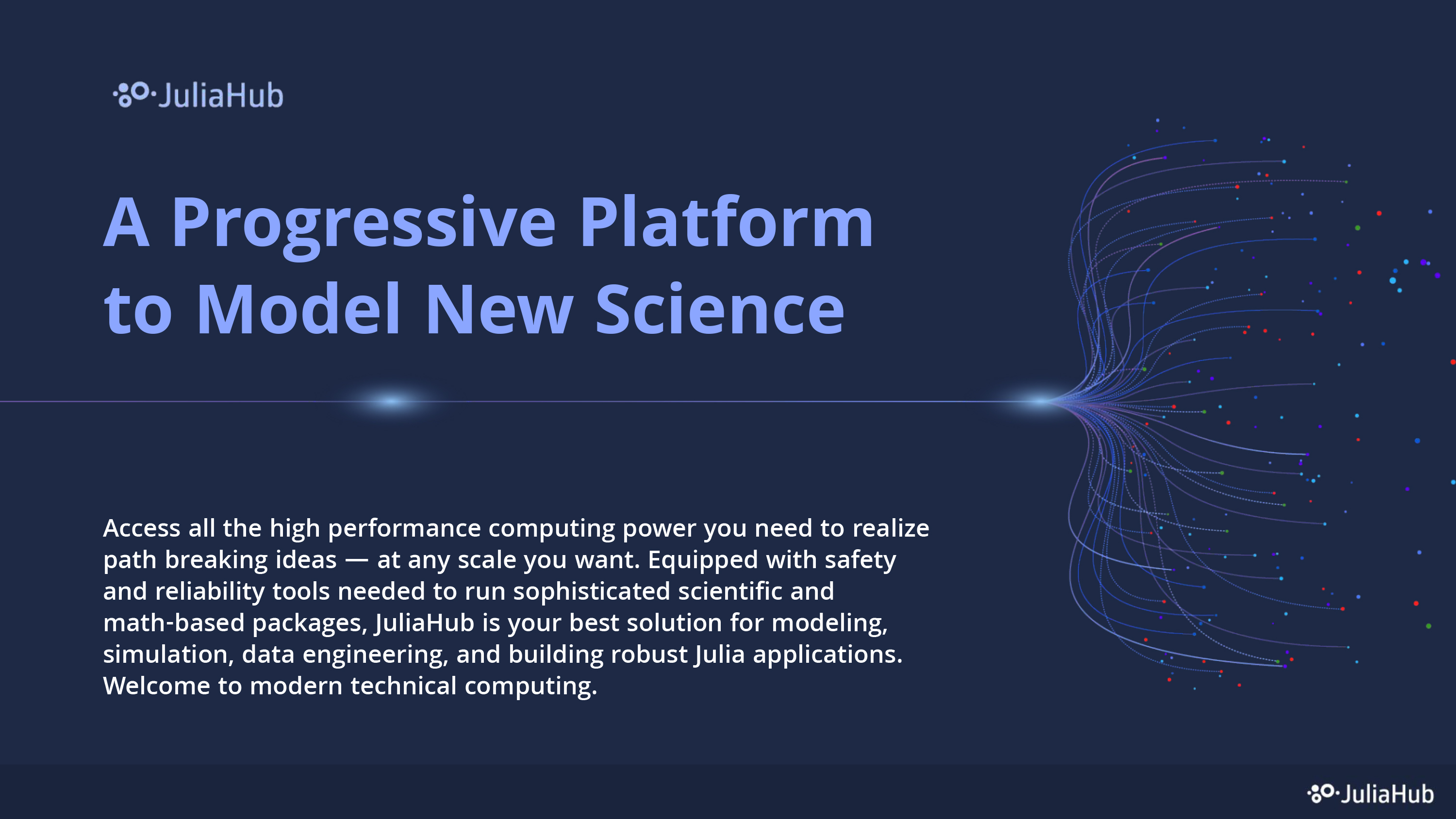 JuliaHub empowers scientists, engineers, and innovators with all the high-performance computing power they need to realize path-breaking ideas at any scale they want.
Virtually turning laptops into supercomputers, JuliaHub keeps organizations asset-light, delivering speed, agility, and frictionless performance. JuliaHub delivers effortless parallel computing without infrastructure hurdles and provides a secure platform with enterprise support.
Most importantly, JuliaHub allows the user to develop applications with a browser-based IDE, collaborate with ease, and perform large computational tasks in the cloud. Cost projections are straightforward, transparent, and available immediately - before the project even begins. Submitting a job is very simple and intuitive thanks to the clear interface, which also offers a dedicated space and tools for uploading and manipulating large datasets.
JuliaHub's main features include:
Pluto and JuliaIDE Coding Environments
Projects for Team Editing and Collaboration
Time Capsule for Reproducibility
CloudStation for High Performance Computing Infrastructure
Package and Registry Management Tools
Dashboard App Development and Web Server
APIs and Notification Features
Static Code Analysis Guidelines and Tooling
Traceability, Logs, Compliance
ChatGPT Simple Version
Quarto Reports
Integrations such as: RStudio, GitLens, and Windows Workstation
If you deploy on JuliaHub you get a long list of features that help keep your code safe in production - for free without doing any additional work:
Authentication: SSO integration with various systems
Security: we've carefully vetted the security stance of apps/packages/data on JuliaHub
Logging: for all your normal Julia logging facilities, we collect and aggregate logs for you and make them easily accessible
Monitoring: we offer built-in monitoring functionality to make sure your various deployments are healthy and working as intended
Data: we handle ingesting from S3, managing data, backing it up, saving outputs, and more.
Compliance: the platform is already SOC 2 Type II compliant, so there's less work to do for you.
Regulatory: we offer strong reproducibility features like time capsule which can re-produce batch jobs, which make it easier to satisfy regulatory demands and audibility in the future
Billing: we can handle billing of large scale compute and distributed/HPC for you
Notifications: when something happens that someone needs to know about, you need to notify them and let them control how they get notified; we'll soon have support for notifications via JuliaHub UI, email, Slack and text messages
Admin Controls: we provide features that allow admins to decide what features can be made available to teams in JuliaHub including access controls around registries, directories, folder, files, and read/write permissions